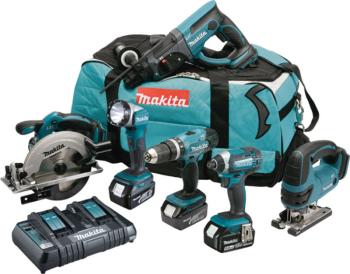 Makita DLX6068PT 18v 6 Piece Kit 3 x 5.0Ah Li-ion Twin Port Charger
Stock Code: MAKDLX6068PT
£
679.00
(exc VAT) Each
( £221.00 Off )
£814.80

(inc VAT) Each

( £221.00 Off )

Out of Stock
Features
DHP453Z Combi Drill

22 minute charge time with the air cooled Makstar Optimum Charging System.
Lithium-ion batteries have greater life spans than their Ni-MH or Ni-Cad counterparts giving 430% greater run time.
Lithium-ion's 40% weight saving means 18 volt power can be obtained by a battery that weighs the same as a 12 volt Ni-MH battery.
Conveniently located push button for forward and reverse.
High comfort grips.
Two speed gear box.
Metal gears

DHR202Z SDS Hammer Drill
Conveniently located push button for forward and reverse.
High comfort grips.
LED job light with afterglow.
One-touch sliding chuck for easy bit changes.
Triple operation mode: Rotary only, hammer only and rotary hammer.
Rotation mode: The chisel can rotate a full 360 degrees with 40 different locking positions.

DJV180Z Jigsaw

Tool-less blade change.
High comfort grips.
LED job light that creates and easy to trace cutting line.
Smooth and powerful cutting at the high stroke speed of 2,600spm.

DML802 Torch

High-luminance single L.E.D. flashlight provides 160 lumens.
12 position pivoting flashlight head with positive stops from 60º - 110º
Aluminum flashlight head design for increased durability
Metal hang hook is convenient and job site durable.
Multi-faceted reflector controls the direction and spread of the light.
L.E.D. provides a sharp, round spotlight

DSS611Z Circular Saw

Double safety trigger.
High comfort grips.
Removable dust nozzle.

DTD152Z Impact Driver

Electric brake
Variable speed control by trigger
Forward/reverse rotation
Twin LED job light
Ergonomic soft grip
Compact and lightweight design
Equipped with Battery protection circuit: designed to protect the battery from damages due to overdischarge, high temperature or overload current.
High rotation speed
One-touch bit installation

DC18RD Charger
A USB port that provides 1.5A output for charging smart phones, tablets, etc.
Full charge sound alert.
LED charging display.
x2 charging ports
Forced cooling system
Electronic current limiter for overload protection.

BL1850 5.0ah Batteries
Lightweight and shock-absorbing.
The Li-ion range delivers 430% more working capacity during it's lifetime compared to Ni-Cad and is 40% Lighter than Ni-MH.
The Li-ion has minimal depletion of power during use or in storage over it's lifetime.
Specification
DHP453Z Combi Drill
Voltage 18 v
Max. in masonry 13 mm
Max. in steel 13 mm
Max. in wood 36 mm
Blows per minute 19500 - 6000 bpm
Noise sound pressure 78 dB(A)
Noise sound power 3 dB(A)
No Load Speed 1300 - 400 rpm
Max Torque 42 Nm
Torque Settings 16 + drill
Vibration: Drilling 2.5 m/sec²
Vibration K factor 1.5 m/sec²
Vibration: Hammer Drilling 7.5 m/sec²
Net weight 1.7 kg

DHR202Z SDS Hammer Drill

Voltage 18 v
Max in concrete 20 mm
Max. in steel 13 mm
Max. in wood 26 mm
Impact energy 2.0 J
Blows per minute 0-4000 bpm
Noise sound pressure 87 dB(A)
Noise sound power 98 dB(A)
Noise K factor3 dB(A)
No Load Speed 0 - 1100 rpm
Vibration: Drilling 3 m/sec²
Vibration K factor 1.5 m/sec²
Vibration: Hammer Drilling 14.5 m/sec²
Vibration: Chiselling 11 m/sec²
Net weight 3.2 kg

DJV180Z Jigsaw

Voltage 18 v
Max in steel 10 mm
Max in wood 135 mm
Strokes per Minute 0-2600 spm
Stroke Length 26 mm
Noise sound pressure 78 dB(A)
Noise K factor 3 dB(A)
Vibration K factor 1.5 m/sec²
Vibration: Cutting Chipboard 8 m/sec²
Vibration: Cutting Sheet Metal 3.5 m/sec²
Net weight 2.8 kg

Makita DSS611Z Circular Saw

Voltage 18 v
Depth of Cut @ 90° 57 mm
Blade Diameter 165 mm
Depth of Cut @ 45º 40 mm
Depth of Cut @ 50° 36 mm
Bore Diameter 20 mm
Noise sound pressure 91 dB(A)
Noise sound power 102 dB(A)
Noise K factor 3 dB(A)
No Load Speed 3700 rpm
Vibration K factor 1.5 m/sec²
Vibration: Cutting Chipboard 2.5 m/sec²
Net weight 3.3 kg

DTD152Z Impact Driver

Voltage 18 v
Driving Shank 6.35mm (1/4")
Hex Machine Screw M4-M8
Impacts per Minute 0 – 3,500 ipm
Standard Bolt M5-M16
High Tensile Bolt M5-M12 Coarse thread (length) 22 - 125 mm
Noise sound pressure93 dB(A)
Noise sound power104 dB(A)
Noise K factor3 dB(A)
No Load Speed 0 - 2900 rpm
Max Fastening Torque 165 Nm
Vibration: Fastening Bolt 10.5 m/sec²
Vibration K factor 1.5 m/sec²
Net weight 1.5 kg
Standard Equipment
831279-0 - CARRYING CASES FOR CORDLESS MACHINES
DC18RD - Twin port charger
DHP453Z - 18V COMBI DRILL LXT
DHR202Z - 18V ROTARY HAMMER SDS+ 20mm
DJV180Z - JIGSAW 18V LXT
DML802 - Flashlight Li-ion 14.4/18V
DSS611Z - 18V CIRCULAR SAW 165MM LXT
DTD152Z - 18v LXT Impact Driver
196673-6 - Battery BL1850 18v Li-ion (3x)
Warranty