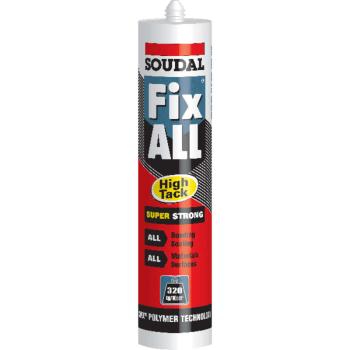 Soudal Fix All White High Tack Sealant Glue
Stock Code: SDL101444
£
6.95
(exc VAT) Each
£8.34

(inc VAT) Each

Online: In Stock
Cardiff: In Stock
Bridgend: In Stock

After only 1 sec Fix ALL® High Tack can hold 150kg/m² .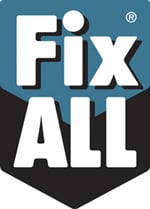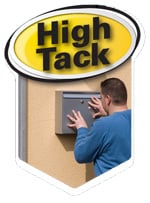 Fix ALL® High Tack: The perfect product if you are in search of a sealant - glue with an EXTREMELY HIGH INITIAL TACK as well as good sealing qualities.
Features
Extremely High Green Strength = fixed after 1 sec!Can be painted immediately after application, even with water-basedpaints.Easy toapply inall conditions
Bonds even ontohumid surfaces
UV stable
Does not smell
Solvent free
Cures fast
No primer needed
Applications
Fix ALL® High tack is the perfect product for every heavy duty bonding application such as:Bonding of very heavy materials
Repairing leaks (even under water)Bonding of paintings and mirrors to walls
And many more ...
Related Products