DeWALT XR FLEXVOLT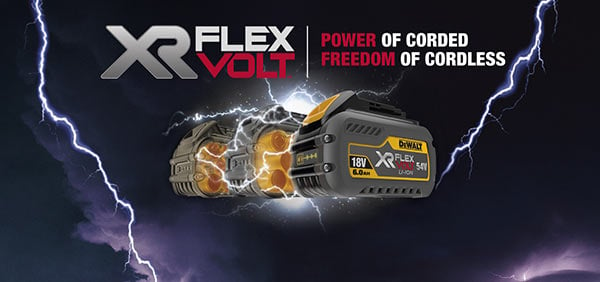 The DEWALT XR FLEXVOLT is a convertible 18/54V battery: The DeWALT XR FLEXVOLT offers complete backwards compatibility with existing 18V DeWALT products, however, there is an option to significantly amplify its voltage to a whopping 54V, which can be used to power larger construction tools.
.





Of course, most efficient cordless systems when compared to traditional corded power tools would end up with a reduced level of power and runtime, despite being easy to use, and with greater portability. It seems that the days of 'borrowing from Peter to pay Paul' are over, as DeWALT have engineered the ideal solution: the DeWALT XR FLEXVOLT—a system which eliminates all restrictions posed by your typical cordless power tool.
This monster of a tool has the dual advantage of having an advanced runtime in all existing 18V tools, in addition to providing the power necessary to access greater applications otherwise unheard of by cordless technology.
Simply put, there is no more need to be tripping over wires. With one handy innovation, DeWALT have at-last exposed the full potential of cordless power tools. We knew it was only a matter of time, and that day has finally arrived; you can now power heavy duty construction power tools with just a cordless battery. Order yours today and stay ahead of the curve.