Spares And Repairs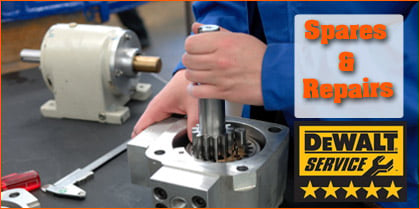 In-house spares & repair facilities at all our branches
Warranty Repairs
We are official service agents for the tool you have purchased from us. You can therefore be assured that we will repair or replace any faulty tool under the terms of the manufacturers warranty. We pride ourselves on our great after sales support and any product bought from us which is faulty and within the warranty period will be repaired or replaced as quickly as possible. Remember manufacturers warranties will only cover you for defects and faulty components, not wear and tear, lack of maintenance or accidental damage. Please use the form below to enquire about a warranty repair you have.
Standard Repairs
We repair a wide range of power tools and machinery and our expert repair engineers have years of experience in fault analysis, repairing and re-assembling your tools. Rest assured you will always receive a price quotation first before a repair is undertaken. If the product is not worth repairing then we will either return it unassembled at your cost or dispose of it after 3 months. Please use the form below to enquire about a standard repair you have.
Spares
We stock thousands of spares. We have access to millions of spares. If it is available there is a good chance we can source it for you. Identifying the correct spare part you require is crucial so we will usually require you to select from a parts diagram of the product which can be emailed/faxed/posted to you if you cannot make it to one of our stores. Please use the form below to enquire about a spare part you require.
Enquiry Form
Please complete the form below, note that any fields marked with an * is a required field.