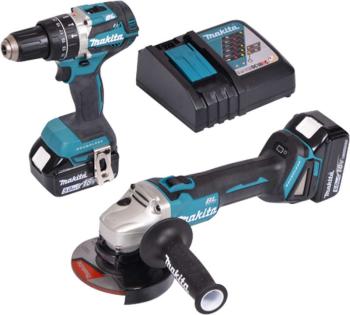 Makita DLX2210TJ1 18 Volt LXT 2 Piece Brushless Combo Kit
Stock Code: MAKDLX2210TJ1
£
399.00
(exc VAT) Each
( £118.50 Off )
£478.80

(inc VAT) Each

( £118.50 Off )

Online: Out of stock. Delivery normally 3-4 days
Cardiff: Out of Stock
Bridgend: Out of Stock


Features
DHP484Z 18v Combi Hammer Drill

Brushless motor
Electric brake
2 mechanical gears.
Variable speed control by trigger
Forward/reverse rotation
LED job light
Compact Overall Length of 182mm
Keyless Chuck
Aluminium Gear Housing
All metal gear construction
Ergonomic soft grip
Belt clip

DGA506Z 18v Brushless Angle Grinder
Electric brake
Brushless motor
Automatic Speed Control: Automatically changes the cutting speed according to load condition for optimum operation
High power motor
Anti-restart function.
Soft start feature.
Battery fuel gauge
Rubberised soft grip.
Electronic current limiter for overload protection.
Slide switch conveniently located for one hand operation.
Lightweight and shock-absorbing batteries.
The Li-ion range delivers 430% more working capacity during it's lifetime compared to Ni-Cad and is 40% Lighter than Ni-MH.
The Li-ion has minimal depletion of power during use or in storage over it's lifetime. <\br>Stacking cases with conecting clips, compatible with other makes of case systainer.
Specification
DGA506Z Battery Type Lithium-ion
Voltage 18 v
Bore Diameter 22.23 mm
Max Wheel Thickness 6 mm
Noise sound pressure 79 dB(A)
Noise K factor3 dB(A)
Max Wheel Diameter 125 mm
No Load Speed 8,500 rpm
Vibration K factor 1.5 m/sec²
Vibration: Surface Grinding 6.5 m/sec²
Vibration: Disc Sanding 2.5 m/sec²
Net weight 2.6 kg

DHP484Z
Battery Type Lithium-ioN
Voltage 18 v
Capacity in Steel 13 mm
Capacity in Wood 38 mm
Chuck Capacity 1.5 - 13 mm
Capacity in Masonry 13 mm
Blows per Minute (Hi) - ipm 0 - 30,000 ipm
Blows per Minute (Lo) - ipm 0 - 7,500 ipm
Noise sound pressure88 dB(A)
Noise sound power99 dB(A)
Noise K factor3 dB(A)
No Load Speed (Hi) 0 - 2,000 rpm
No Load Speed (Lo) 0 - 500 rpm
Torque Settings 21 + drill
Max. Fastening Torque (Soft Joint) 30 Nm
Max. Fastening Torque (Hard Joint) 54 Nm
Vibration K factor 1.5 m/sec²
Vibration: Impact drilling into concrete 8.0 m/sec²
Vibration: Drilling into metal 2.5 m/sec²
Net weight 1.6 - 1.9 kg
Standard Equipment
821550-0 - MAKPAC CONNECTOR CASE (TYPE 2)
821551-8 - MAKPAC CONNECTOR CASE (TYPE 3)
DC18RC - DC18RC COMPACT CHARGER
DHP484Z - 18V Combi Drill BL LXT
197282-4 - Battery BL1850B 18v Li-ion 5.0ah (2x)


Warranty