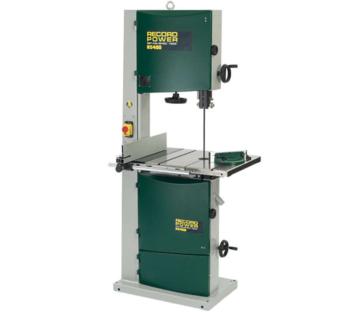 Record BS400 Premium 16" Bandsaw
Stock Code: RECBS400
£
916.66
(exc VAT) Each
£1099.99

(inc VAT) Each

Online: Out of stock. Delivery normally 3-4 days


The BS400 Bandsaw is shipped direct from factory,
normally within 2 to 3 working days.

Should you wish to make further enquiries about purchasing
or arrange for an in-store demonstration please feel free to contact us.
BUY NOW FOR FREE DELIVERY OFFER (MAINLAND UK)

The BS400 bandsaw offers high quality, industrial features and large capacities to the mid range bandsaw market. This machine brings affordable solid performance and reliability within reach of the discerning woodworker. Like allbandsaws in the range, a solid cast iron table provides unrivalled stability and solidity.

An industrial style cast trunnion supports the table and allows it to be tilted one-handed on a rack and pinion. Dynamically balanced cast iron bandwheels ensure superior strength and reduced vibration - a feature not usually found on other machines at this level. The 2hp motor and 305mm depth of cut mean this machine can cope easily with large timbers yet is alsoequally capable of fine, precise cuts and veneers.

The exceptional value for money this machine offers is difficult to appreciate without seeing the machine first hand. If you are in the market for a high specification mid-range bandsaw, be sure to visit our Cardiff branch and compare the BS400 to other bandsaws on the market.
Features
Cast Iron Band Wheels: are dynamically balanced and provide a flywheel effect for improved cutting performance. Rubber tyres are precision ground for easy blade fitting and smooth drive.








Industrial Style Fence fence: features a heavy extrusion mounted on a cast iron base, which moves along a solid steel bar. This provides exceptional strength and accuracy and is easily locked with the brass screw and handle.









Large 535 x 480 mm Cast Iron Table: provides a strong and steady work area to support large workpieces. Finely ground finish enables effortless movement of the timber









Cam Action Tensioner: with the flick of a handle the tension is released on the blade enabling quick easy changing, but more importantly, when reset, the previous tension is automatically applied to the new blade. This makes blade changing amuch simpler task and allowing tension to be taken off the blade when not in use.









Toolpost Support: features jacking screws for easy adjustment.









Accurate and Easy to Use Blade Guides: Blade guides need accurate setting if they are to be of any use, so easy access and adjustment are a must. These guides, similar to those found on industrial machines costing many times more, give even greater support and easier adjustment than ever. When these guides are compared to ball race guidesit is clear that they provide far more support. They cover around 3/4" of the blade side rather than the pinpoint contact that ball race guides provide.







Trunnion: Solid double trunnion table mount for rigid table support featuring one handed rack and pinion table tilt for ease of use and accuracy









Bandsaw Masterclass DVD Included: Presented by Alan Holtham, this indispensable DVD gives a thorough and comprehensive introduction to bandsaw use, setup, maintenance and blade choice.


Specification
Maximum Depth of Cut: 305 mm
Throat Depth: 416 mm
Table Size: 535 x 480 mm
Table Height from Floor: 900 mm
Motor Power: 2 hp
Blade Length: 133"
Blade Width Capacity: 1/4 - 1"
Blade Speed: 820 & 420 M / Minute
Extraction Port Diameter: 100 mm
Weight: 140 kg
Size: L630 x H1800 x W850 mm
Standard Equipment
Mitre Fence Rip Fence
Bandsaw Masterclass DVD with Alan Holtham (RPDVD01)
Warranty

Related Products