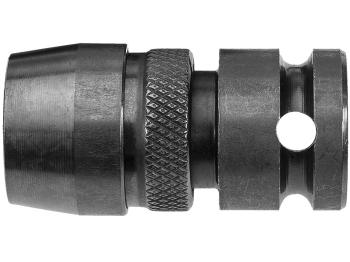 HMT VersaDrive Rapid-Lock 1/2in Impact Wrench Adapter
Stock Code: HMT111130-012A
£
40.55
(exc VAT) Each
£48.66

(inc VAT) Each

Online: In Stock
Cardiff: In Stock
Bridgend: Out of Stock

The HMT 1/2in Drive Rapid Lock Impact Adapter 111130-012A is an ideal bit adapter for any toolbox. This adapter can be placed onto an impact wrench, making it compatible with Versadrive tools. Once this adapter is fitted to an impact wrench, simply push any Versadrive tool into the adapter and use. It is a high quality adapter designed to be robust and durable with a pull-back collar to release, this provides a quick tool change. This adapter has been rated to 650nm and has a triple-lock design that ensures excellent tool grip. This is supplied with a retention pin and ring.
Features
Pull-back collar to release, for quick tool change
Rated to 650nm
Improved triple-lock design provides improved tool grip
Specification
Drive - 1/2"
Standard Equipment
1 x HMT VersaDrive Rapid-Lock 1/2in Impact Wrench Adapter