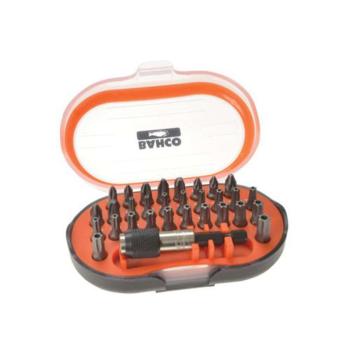 Bahco 59S313 59/S31-3 Bit Set includes PH/ PZ/ TX 31 Pieces
Stock Code: TBKBAH59S313
£
22.16
(exc VAT) Each
£26.59

(inc VAT) Each

Online: Out of stock. Delivery normally 3-4 days
Cardiff: Out of Stock
Bridgend: Out of Stock

Bahco 59/S31-3 31 piece Bit Set PH, PZ and TX BAH59S313
The Bahco 59/S31-331 piece bit set comprises the following;
5 x 1/4 inch Pozidriv bits: PZ1 (x2), PZ2 (x2) and PZ3.
5 x 1/4 inch Phillips bits: PH1 (x2), PH2 (x2) and PH3.
20 x 1/4 inch Tamperproof Torx bits: TT10 (x2), TT15 (x3), TT20 (x5), TT25 (x4), TT27, TT30 (x4) and TT40.
1 x 1/4 inch Magnetic bit holder.
The quick release magnetic bit holder ensures that the bitremains securely in the holder until the release is driven. It features a groove part in both sides of the black coated body for a better grip and a lock-in type system with forward function.
BAH59S313