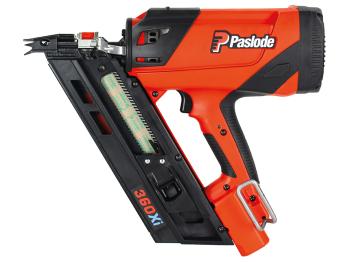 Paslode IM360Xi Gas Framing Nailer
Stock Code: PAS019700
£
499.00
(exc VAT) Each
( £262.45 Off )
£598.80

(inc VAT) Each

( £262.45 Off )

Online: Pre-order coming soon
Cardiff: Out of Stock
Bridgend: Out of Stock

The 360Xi framing nailer is light and perfectly balanced to guarantee a great performance for multiple applications. A high performing lithium battery and a weatherproof fuel cell ensures the tool will run all day, every day no matter the challenge.
Features
Unbeatable power to weight ratio: Able to drive long nails into the hardest of substrates
Lighter and better balanced tool at 3.6kg: Guarantees all day productivity
Quick release magazine: Designed to make nail jams a thing of the past
New battery position for high performing battery: Ensures your tool will work all day. Every day
Re-engineered grip: Ensures extra comfort and convenience

Ideal users
Most likely to be a Carpenter, Roofer or General Builder working on New Build projects such as large housing developments.
Specification
Weight: 3.6kg
Dimensions: 376 x 325 x 121mm
Nail Range: 50 - 90mm
Power: 105J
Cycle Rate: 2 - 3 nails / Second Max. Cycle Rate: 1000 nails / hour 4000 nails / day
Capacity: Standard: 47 nails Long: 85 nails
Fuel Cell Life: Approx 1,250 shots at -5°c
Battery Lithium (2.1 Ah) Approx 13000 shots
Charger 230V: 90 min max charge
Standard Equipment
Paslode IM360Xi Nailer, high impact carry case, Lithium battery, Lithium battery charger, cleaning solution, lubricating oil, safety glasses to EN166:F, allen key, safety instructions, CE Declaration of Conformity, toolschematics and instruction manual.
Warranty
12 months