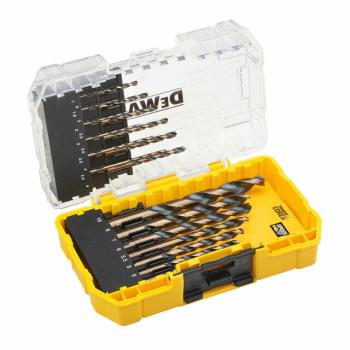 DeWALT DT70728-QZ 19pc HSS Black & Gold Drill Set
Stock Code: DEWDT70728-QZ
£
16.66
(exc VAT) Each
( £12.15 Off )
£19.99

(inc VAT) Each

( £12.15 Off )

Online: In Stock
Cardiff: In Stock
Bridgend: Out of Stock

DEWALT Black & Gold HSS Drill Bits have a speed tip and a tough core for increased durability. The bits also incorporate a no spin shank that eliminates the frustration of the bit spinning in the chuck. Supplied in a TOUGH CASE+, this is part of a connectable case system that is TSTAK™ compatible. Individual TOUGH CASES can be clipped together for easy transportation.
Features
Comes in a small tough case which is compatible with the TSTAK caddy.
Black & Gold Drills for Metal and Multimaterial Drilling - Drills into wood, metal and plastic.
No spin shank which eliminates bit slippage, provides positive lock on chuck, and ensures clean and accurate holes.
Tough Core: twice as strong core for increased durability and reduced shank breakage.
Optimised helix angle for reduced pull through and a 70% reduction in breakthrough torque.
Features Speed Tip: optimised geometry which penetrates material faster with aggressive web design on the tip.
Standard Equipment
Kit includes 19 black and gold metal bits:
1x 1mm,
1x 1.5m
2x 2mm
2x 2.5mm
2x 3mm
2x 3.5mm
2x 4mm
2x 5mm
1x 5.5mm
1x 6mm
1x 7mm
1x 8mm
1x 10mm