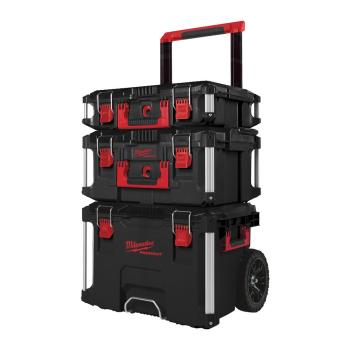 Milwaukee 4932464244 PACKOUT Boxes Set 3 pcs
Stock Code: MIL4932464244
£
249.99
(exc VAT) Each
( £258.30 Off )
£299.99

(inc VAT) Each

( £258.30 Off )

Online: Out of stock. Delivery normally 3-4 days
Cardiff: Out of Stock
Bridgend: Out of Stock

The Milwaukee 3pc Packout Storage System Set 4932464244 is ideal for a professional tradesman as well as DIY enthusiasts. Milwaukee has revolutionised tool transportation, organisation, and storage for the trades with the new PACKOUT™ Modular Storage System. Designed to provide users with the ability to interchange and interlock a wide assortment of heavy duty tool boxes, organisers, and storage totes in multiple different configurations. This has oversized all-terrain wheels to ensure they are durable and robust enough to withstand that harshest of conditions. This includesthe PackOut trolley, PackOut large box and PackOut box. Compatible with all Packout modular systems.
Features
Constructed with impact-resistant polymers for job site durability.
113 kg weight capacity. Industrial grade extension handle.
IP65 rated weather seal to keep out rain and job site debris.
Metal reinforced corners.
Metal reinforced locking point.
Interior organiser tray.
Mounting location for the ONE-KEY™ TICK ™.
Specification
PackOut Trolley Technical Specification:
Dimensions (mm) - 560 x 410 x 480
Loading capacity - 113 kg

PackOut Large Box Technical Specification:
Dimensions (mm) - 560 x 410 x 290
Loading capacity - 34 kg

PackOut Box Technical Specification:
Dimensions (mm) - 560 x 410 x 170
Loading capacity - 45 kg
Standard Equipment
1x - PackOut trolley box 4932464078
1x - PackOut large box 4932464079
1x - PackOut box 4932464080