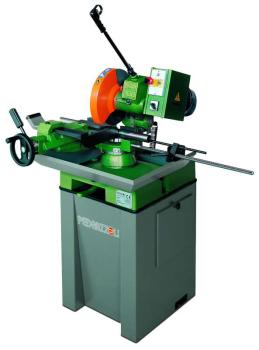 Pedrazzoli Brown 300 MRM Metal Cutting Saw
Stock Code: PEDBROWN300MRM
£
4000.00
(exc VAT) Each
£4800.00

(inc VAT) Each

Online: Out of stock. Delivery normally 3-4 days
Cardiff: Out of Stock
Bridgend: Out of Stock


BROWN 300 - GREAT VERSATILITY FOR BARS AND SECTIONS
FeaturesPedrazzoli's manual machine for blade cutting is characterised by extreme sturdiness and long work-life; the structure is entirely made of cast iron with high precision machining. Cutting headsare perfectly balanced to give a pleasant and effortless cutting action. Two speed drive unit. Integral cutting table with rotating disk provides excellent support for material even for very short lengths while the reducer's screw has a double support on ball bearings and an elastic joint which ensures a perfect vibration-free cut and consequent long blade life.
Specification
Motor 1.3 / 1.8 KWRPM 43 / 86 Vice 145mm
Blade 300mm
Weight 150kg
Noise 65 d
BACUTTING SPEC Round -45° 65 mm 90° 80 mm +45° 80 mm
Square -45° 50 mm 90° 75 mm +45° 75 mm
Rectangular -45° 85 x 50 mm 90° 120 x 75 mm +45° 90 x 75 mm
Standard Equipment
Please note that the pedestal stand for this machine isnot supplied as standard.Mechanism for the rotation of head block for angled cuts up to 45° left and right with locking lever.Manual vice with rapid clamping and removable anti-burr (for version MRM).Pneumatic vice with removable anti-burr (for version MRP).Headtilting on adjustable self-lubricating bushings.Reverser.Emergency push button with key on control panel.Safety switch for blade drive on lever hand grip.Blade lubrication-cooling system with electric pump.Coolant liquid vat with extractable pump for vat cleaning.Complete protection guard with rapid blade change system.Piece support arm with sliding roller.Bar stop with millimetric bar.Circular blade ø 275.Blade cleaning roller.Instruction book for use and maintenance.Set of wrenches for the maintenance.
Warranty
12 months
This machine is on display in our Cardiff showroom. Should you wish to makefurther enquiries about purchasing or arrange for an in-store demonstration please feel free to contact us.