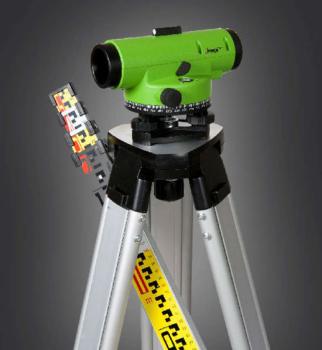 Imex LAR28 Auto Dumpy Level 28x Zoom Tripod & 5m Staff
Stock Code: IME012-ILAR28S
£
209.99
(exc VAT) Each
( £11.41 Off )
£251.99

(inc VAT) Each

( £11.41 Off )

Online: Out of stock. Delivery normally 3-4 days
Cardiff: Out of Stock
Bridgend: Out of Stock

Imex Auto Dumpy Level is combining an all steel, fully steal sealed housing, for all weather protection and high magnification.A magnetic damping compensator ensure better stability and reliability in all conditions. The Imex DumpyLevel comes with a fully enclosed carry case.
This is Imex's most economical Dumpy Level and is designed specifically for general construction applications. The Imex LAR28 has a x28 magnification and is the ideal instrument for all your daily levelling tasks such as Building and Civil Engineering, Profiling, Landscaping, and Area Levelling.


Magnification: x28
Automatic, air-damped compensator, Smooth, double-sided endless fine drive for easy and precise targeting
Horizontal circle with 360° division
Quality and Endurance:
Water resistant (IP54) for instrument use under harsh environmental conditions
2 year warranty and access to the worldwide Imex Global network of service and support centres
The Imex LAR28 level is very easy to use. Using the horizontal circle and circular bubble can be read just nest to the telescope. Estimate targeting is easily done through the external site and precise targeting is made fast with the use of the endless drives which are double sided. LAR28 is configurable to suit the operator's preferences. Even in intense light conditions the impressive optics ensures aiming is accurate and with better contrast the measurements are easier to read which reduces the chance of error.
The Imex Tripod and staff are important parts of any levelling equipment. To get better results use the approved original suited Imex tripods and staffs. The best suited tripod is the domed topped Imex tripod.
Specification

Magnification 28 x
Horizontal Circle 360° graduations
Compensator Magnetic Damping
Objective Aperture 34mm
Weight 1.8kg