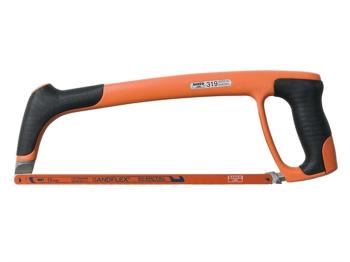 Bahco 319 Hacksaw Frame
Stock Code: TBKBAH319
£
14.99
(exc VAT) Each
( £8.28 Off )
£17.99

(inc VAT) Each

( £8.28 Off )

Online: In Stock
Cardiff: In Stock
Bridgend: In Stock

BAHCO Professional Hand Hacksaw Frame - 300mm (319)

A truly unique and professional hacksaw frame with a design that allows very high blade tension for straight, accurate and exact kerfs. This is due tothe steel tube core with comfortable plastic covering. Alternative 55° blade mounting for flush cutting. Supplied with the reliable and shatterproof SANDFLEX® 3906 Bi-metal blade with 24 TPI for excellent cutting performance.


The Bahco 319 Professional Hacksaw Frame has a lightweight 2-component frame with steel core and is well balanced for straight cutting with maximum effect.
No protruding parts for maximum accessibility, compact design for ease-of-use and the tensioning mechanism is integrated in the handle. The comfortable non-slip handle with front grip ensures positive handling and control and the alternative 55° pin mount allows flush cutting.
Blade Length: 300mm (12in).
1 x Bahco 319 Hacksaw Frame 300mm (12in)