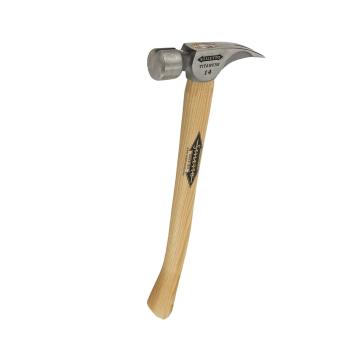 Milwaukee TI14SC-H18 Stiletto Titanium Hammer Smooth Face 18" 4932352584
Stock Code: MIL4932352584
£
83.00
(exc VAT) Each
( £60.67 Off )
£99.60

(inc VAT) Each

( £60.67 Off )

Online: Out of stock. Delivery normally 3-4 days
Cardiff: Out of Stock
Bridgend: Out of Stock

Stiletto hammers have built a reputation for being reliable, hard wearing, and some of the best hammers on the market. Durability: More flexible and fracture resistant than steel. Accepts harder impacts without distorting the overall shape of the hammer. One-piece design – strength built in from the head right through to the handle providing for best stability. Less fatigue: Titanium weighs 45% less than steel. Titanium has the highest strength to weight ratio of any metal. Less weight allows one to swing the hammer faster creating greater head speed resulting in more power. Titanium hammers drive 30% more nails with the same effort. Light hammer can be swung faster, it puts less strainon the body without compromising work efficiency.
Features
Traditional hickory wood handle: Strong curved axe type grip for comfortable handling.
Magnetic nail starter: Helps to start nails in difficult to reach places.
Low weight: Due to the natural wood handle a very lightweight hammer but still incredibly powerful.
Rust resistant: Hammers are predominantly used outdoors. Titanium is 100% corrosion resistant.
More productivity: Drives up to 30% more nails with the same effort.
Specification
Product Length - 18"
Product Weight - 397g
Hammer Face - Smooth Handle
Type - Hickory
Standard Equipment
1 x Stiletto Hammer - Smooth Face, 18"