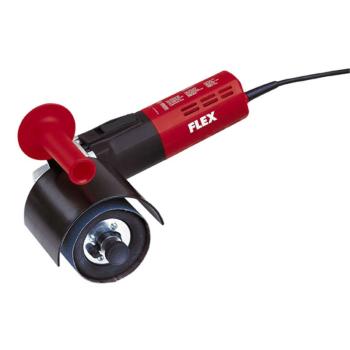 FLEX LP1503VR Set Polishing Burnishing Machine 110v
Stock Code: FLE384445
£
499.00
(exc VAT) Each
( £42.63 Off )
£598.80

(inc VAT) Each

( £42.63 Off )

Online: Up to 2 or 3 working days
Cardiff: Out of Stock
Bridgend: Out of Stock

The FLEX burnishing machine for highly polished surfaces in the PRO Shadow-free and transition-free metal, wood, or plastic surfaces are its specialty.
Its extensive FLEX accessories make it ideal for satin-finishing, polishing, descaling, smoothing, matting, structuring, brush polishing, and deburring.
Start right up with the PROFI kit in the toolboxes; everything is on hand.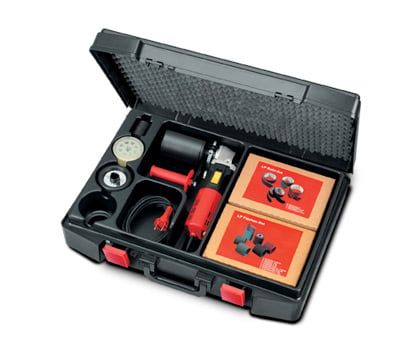 This machine specializes in shadow-free, transitionless finishes on metal (e.g. stainless steel, aluminum), wood and plastic surfaces.
Electronic control and speed preselection over abroad RPM range lends it unique versatility.
Ideal for finishing, polishing, smoothing, dulling, graining, brushing and deburring, thanks to an extensive range of accessories.
Features
FLEX four-fold full-wave electronic control: with consistent speed control by tachometer generator, soft start, overload protection and speed pre-selection
Adjustable guard: for sanding tools up to 115 mm
Sanding tool replacement: tool-free
Qualityshut-off carbon brushes: if the carbon brushes wear down, the motor will be automatically switched off and thus protected from damage
4m power cord: with FLEX red plug
Specification.
Power input 1200 watt
Power output 700 watt
Max. tool Ø 115 mm
Tool width 100 mm
Tool fixture 19 mm
No load speed 1200-3700 rpm
Weight 3,1 kg
Standard Equipment
1 air pump
1 rubber air roller
1 drive roller
1 set of distance rings
1 fleece A 280/fine
1 sanding sleeve P 60
1 sanding sleeve P 100
1 sanding sleeve P 180
1 fleece sanding sleeve A 240
1 fleece sanding sleeve A 400
1 sanding-polishing sleeve S 600
1 sanding-polishing sleeve S 1500
2 velcro drive belts
1 velcro fleece belt A 180
2 velcro sanding belts P 120
1 superfinishing band S 1500
1 plastic carrying case with insert
Warranty
12 months**ALSOAVAILABLE IN 240v- Please contact us for deliverytime**