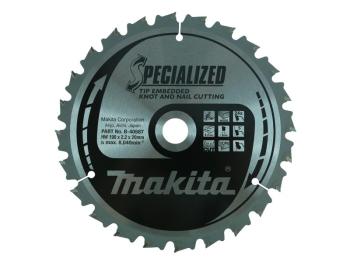 Makita B-40587 190mm x 20mm x 24T Specialized Mitre Saw Blade
Stock Code: MAKB-40587
£
23.20
(exc VAT) Each
£27.84

(inc VAT) Each

Online: In Stock
Cardiff: In Stock
Bridgend: Out of Stock

Features
Designed to fit both Makita and other manufacturer's saws, tip embedded or "Deep Tooth" blades are especially tough and hard wearing.
Easily copes with knotty wood and will normallyslice through nail and screw embedded timber without damaging teeth.
Especially suitable for reclaimed timber and demolition work.
Specialized blades are precision manufactured for specific applications,machines and materials, such as embedded teeth blades powerfully cut through knots and wood with nails.
Specification
Bore (B) - 20mm
Diameter (D) - 190mm
Kerf (K) - 2.2mm
Rake (R) - 5º
Thickness (T) - 1.6mm
Pack Quantity - 1
Tooth Count - 24
Material Type - Wood
Machine Type - Mitre Saw
Standard Equipment
1x Makita B-40587 190mm x 20mm x 24T Specialized Mitre Saw Blade