Fein RS10-70E Pipe Sander Set
The pipe sander for all standard uprights and hand rails. Ideal for machining pipes and pipe bends. For everything from cleaning off dirt, removing tarnishing, sanding fine welded seams and satinfinishing to polishing preparations andpolishing to a mirror finish. The sander is small and easy to use. It's fitted with a drive head which can swivel almost 360° to enable comfortable use, even in tight spaces. The sander is very flexible and can be variably adapted to different pipe diameters or sanding belts.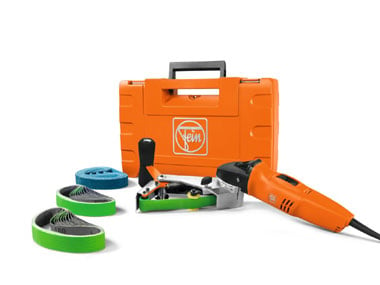 Features
Simple handling
Reliable belt guidance
Low weight
Continuously adjustable speed
Dustproof ball bearing
Specification
Power consumption 800 watts
Output power 550 watts
Belt length 533 mm
Speed 2.500 - 7.000 1/min
Belt speed 3,5 - 11 m/sec
Min. distance from wall 50 mm
Dimensions L x W x H 514 x 143 x 160 mm
Pipe diameter 8-45 mm Cable length 4 m
Weight 2.9kg
Standard Equipment
The start set covers all standard applications for pipes and pipe bends: cleaning, removing tarnishing and scratches, removing welded seams, creating sanding patterns and achieving a high-quality satin finish.Pipe sander in plastic case10 ceramic sanding belts, grit 12010 ceramic sanding belts, grit 1805 fleece belts, fine
Warranty

click above logo to register your new FEIN product within 6 weeks after purchasefor the 3-year FEIN PLUS warranty.
Please select a product to add a review to.