DeWALT DPC10QTC 1100w Mid Pressure Super Quiet Compressor
The DEWALT DPC10QTC Mid Pressure Super Quiet Compressor has been designed for framing and finishing applications. It has a durable oil free pump that provides extended maintenance-free operation. The compressor can be operated/stored in either the vertical or horizontal position. With a roll cage and control panel that provides protection to key compressor components.
It has a lightweight, compact design making it easier to carry and store. With dual quick couplers, it can easily support 2 nailers at once. The ball valve drain allows for quick and thorough tank draining with a high-flow regulator for increased performance. Also features a convenient cord wrap for easy storage.
Features
Speed electronics
Locking knob to change tool
Tool chuck
Soft grip
Hook for fastening the tool to the telescopic stand
Flexible shaft
Specification
Voltage: 110V / 240V
Input Power: 1,100
Watt, 1.5 HP
Tank Volume: 9.4 Litre
Max Pressure: 13.8 Bar
Air Displacement: 119l/min
Air Delivery: 82l/min
Pump Type: Oil-Free
Size (WxLxH): 435 x 538 x 335mm
Weight: 20.4kg
Noise LWa 1sd / Uncertainty: 89.0/3.0dB
Noise LPa 1sd / Uncertainty: 71.5/3.0dB
Standard Equipment
1x DeWALT DPC10QTC-LX 1100w Mid Pressure Super Quiet Compressor 110V
Warranty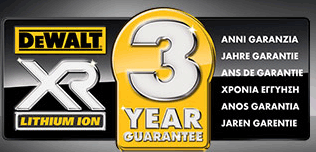 Please select a product to add a review to.