Makita HR2631F SDS Plus Rotary Hammer Drill
HR2631F is a 26mm combination hammer developed from HR2611F with an enhanced operation-mode change lever. All other features remain the same as the predecessor model HR2611F.
Features
Anti vibration technology
LED job light
Modified operation-mode change lever enables switch from 'Rotation' to 'Hammering' mode and vice-versa without rotating the chuck. 3 mode operation: Rotation only / Rotation with hammering / Hammering only
One touch sliding chuck for easy bit installation and removal.
Variable speed control by trigger
Forward/reverse rotation
Torque limiter
Double Insulation
40 different bit angle settings
Compact and lightweight design
Depth stop
Ergonomically designed handle with rubberised soft grip fits your hand perfectly to provide maximum control and comfort.
Specification
Impact energy 2.4 J
Max in concrete (TCT bit) 26 mm
Max in concrete (TCT core) 68 mm
Max in concrete (Diamond core) 80 mm
Max in wood 32 mm
Max in steel 13 mm
Impacts per minute 0 - 4,600 ipm
Input Wattage 800w
Net weight 2.9 - 3.4 kg
No Load Speed 0 - 1200 rpm
Vibration: Chiselling 9.0 m/sec²
Vibration: Hammer Drilling 12.0 m/sec²
Noise sound pressure 90 dB(A)
Noise K factor3 dB(A)
Noise sound power101 dB(A)
Vibration: Drilling into metal 2.5 m/sec²
Standard Equipment
Side handle
Depth stop
Carry case
Warranty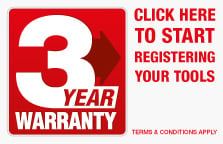 Please select a product to add a review to.