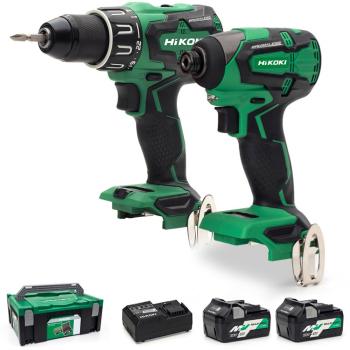 Hikoki KC18DBFL2/JDZ DV18DB Drill & WH18DB Impact Driver Brushless Kit 2 X 5.0Ah MultiVolt Batteries
Stock Code: HIKKC18DBFL2/JDZ/18
£
249.00
(exc VAT) Each
( £203.00 Off )
£298.80

(inc VAT) Each

( £203.00 Off )

Online: In Stock
Cardiff: Out of Stock
Bridgend: In Stock

The HiKOKI brand replaces Hitachi Power Tools. The KC18DBFL2/JDZ consists of a DV18DBFL2 Combi Drill and the WH18DBFL2 Impact Driver for ultimate power in a lightweight design. Powered by Lithium-Ion batteries that deliver steady, fade-free power throughout the battery's charge giving you an overall longer battery life. The Hitachi DV18DBFL2 is a powerful 18v combi drill with an ergonomic slimline soft grip design, featuring an electric brake and spindle lock. Suitable for a variety of applications including drilling brick and concrete block, driving and removing machine screws, wood screws, tapping screws, drilling various metals and drilling various woods.
Features
Hikoki 18V Combi Drill with Brushless Motor DV18DBFL2

Lightweight slide-in Li-Ion batteries
Only 189mm body length - ideal for confined spaces
Maximum torque of 70Nm (hard)
Forward & reverse switch
LED spotlight illuminates workpiece
Battery level indicator
Metal belt clip
13mm metal chuck with ratcheting lock
Spindle lock
Soft grip handle

Hikoki 18v Impact Driver with Brushless Motor WH18DBFL2

126mm body length
Maximum torque of 172Nm (hard)
M5-M16 Bolt Capacity
LED spotlight illuminates work piece
Metal belt clip Forward & reverse switch
Specification
DV18DBFL2 Combi Drill

Capacity Brick: 13mm, Wood: 50mm, Metal: 13mm
Charge Time 90 mins
Full Load Impact Rate High: 0-27000/min, Low: 6000/min
Max Torque 70Nm (hard)
No-Load Speed High: 0-1800/min, Low: 400/min
Overall Length 189mm
Weight 1.7kg

WH18DBFL2 Impact Driver Brushless

Chuck Capacity 6.35mm
Chuck Type Hex Tool Holder
Max Torque 172 Nm
No Load Speed 0-3100 rpm
Tool Weight without Battery 1.6 kg
Standard Equipment
1 x DV18DBFL2 Combi Drill
1 x WH18DBFL2 Impact Driver
2 x BSL36A18 MultiVolt 5.0Ah Batteries
1x UC18YSL3 charger
Driver bit
Carrying case
Warranty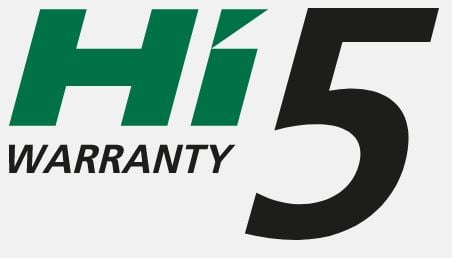 The HiKOKI Heavy Duty Warranty scheme covers cordless and electric power tools. You can register your cordless brushless power tools for an extra 2 years over the automatic 3 years from the heavy duty 3 year warranty. Batteries of 5.0Ah and above are covered, as well as MultiVolt batteries.
Online registration is required within 4 weeks of
purchase via the HiKOKI Power Tools (UK) Ltd
website.