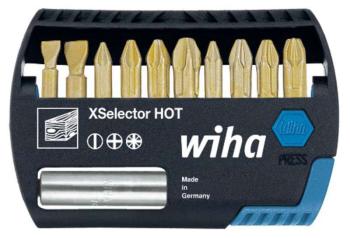 Wiha 7944055 XSelector Torsion, Mixed, 11-Piece
Stock Code: WIH29412
£
15.44
(exc VAT) Each
£18.53

(inc VAT) Each

Online: Up to 3 or 4 working days
Cardiff: Out of Stock
Bridgend: Out of Stock

Housing: Box made of high quality plastic. The simplest bit removal guaranteed.
Bits: 25 mm HOT Torsion bits.
Geometry: Patented torsion zone to prevent premature breaking of the bit when under stress.
Holder: Universal holder, magnetic.
Application: Especially suitable for fastenings in wood and soft materials it can't get any more compact!