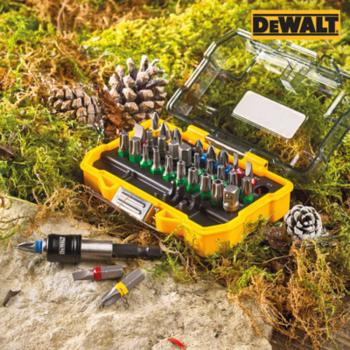 DeWALT DT7969M 32 Piece Screwdriver Bit Set
Stock Code: TBKXMS17BITSET
£
10.83
(exc VAT) Each
£13.00

(inc VAT) Each

Online: In Stock
Cardiff: Out of Stock
Bridgend: In Stock

DEWALT 32 Piece Bit Set. A versatile selection of the most common, coloured coded screwdriver bits for easy identification.
Supplied in a hard wearing case for safe storage.

4 x 25mm Phillips Bits: PH1, PH2(2), PH3.
4 x 25mm Pozi Bits: PZ1, PZ2(2), PZ3.
4 x 25mm Slotted Bits: 0.5×3, 0.8×4, 0.8×5, 1.2×6.5mm.
4 x 25mm Hex Bits: 3, 4, 5, 6mm.
7 x 25mm Torx Bits: T10, T15, T20, T25, T27, T30, T40.
7 x 25mm Security Torx Bits: TPX10, TPX15, TPX20, TPX25, TPX27, TPX30, TPX40.
1 x Lockable Bit Holder.
1 x Socket Adaptor.