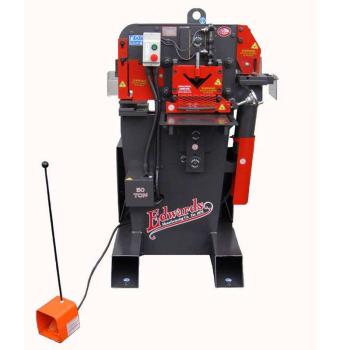 Edwards Jaws IV 50 Ton Ironworker
Stock Code: EDWJAWS50TON
£
4950.00
(exc VAT) Each
£5940.00

(inc VAT) Each

Online: Out of stock. Delivery normally 3-4 days
Cardiff: Out of Stock
Bridgend: Out of Stock


Edwards Ironworkers operate by applying hydraulic force toa moving center that moves within a frame in a simple, vertical path. It exerts force through shear blades, punch and die, notcher, brake dies, or bump-die tooling upon mild steel. Vertical travel of the moving center allows the operator to perform multiple operations on an Edwards Ironworker without removing any adjacent tooling.
Features
4 Available Stations
Punching Station to accept optional tooling
Open Station for optional Coper/Notcher
Compact: Perfect for small shops!Vertical punching action(no arc)Solid frame throughout the Ironworker.Frames 25% thicker than other manufactures
Low rake shear blades for "Guillotine Quality"Shear. Reversible shearing blades
No extra charge for single phase
Specification
Punching 26 Ø - 16mm plate.Flat bar shearing 250mm x 13mm
Angle iron upto 100mm
Notching 50mm x 75mm x 8mm
Rated Capacity 50 ton
Throat Depth 7"Open Height 8-1/8"Shut Height 7"Stroke 1-1/8"Cycle Time 2 seconds
Electric Motor Options 5 HP, 3 Phase, 440/480 v 5 HP, 1 Phase, 208/240 v
Warranty
12 months
Should you wish to make further enquiries about purchasing or arrange for an in-store demonstration please feel free to contact us.