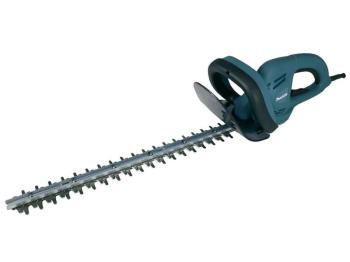 Makita UH4861X 240V 48cm/19-inch Electric Hedge Trimmer
Stock Code: MAKUH4861X/2
£
49.00
(exc VAT) Each
( £72.63 Off )
£58.80

(inc VAT) Each

( £72.63 Off )

Online: Up to 2 or 3 working days
Cardiff: Out of Stock
Bridgend: Out of Stock

Features
Double Insulation
Electric brake
Stain-free shear blade surface of glittering silver obtained by non-electrolyzed nickel plating that features high anti-abrasion surface for long lasting coating
Powerful 400W motor
Two handed safety switching in all applications.
Each of the three grips is equipped with a grip switch.
The blades start only when two of the three grip switches are engaged at once, and stop immediately when of the two is released.
Specification
Input Wattage 400 w
Blade Length 48 cm
Max Branch Diameter 15 mm
Strokes per Minute 1600 spm
Net weight 3.0 kg
Noise sound pressure 82 dB(A)
Noise sound power 93 dB(A)
Noise K factor 2.1 dB(A)
Vibration no load 6.7 m/sec²
K factor 1.5 m/sec²
Standard Equipment
Blade cover
Hook complete
Cord holder
10m lead
Warranty