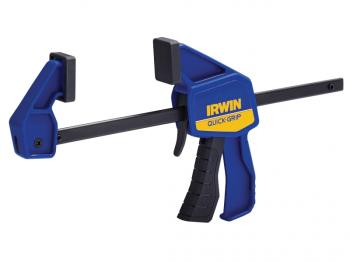 IRWIN Quick-Grip Mini Bar Clamp 300mm (12in)
Stock Code: TBKQ/GT5412EL7N
£
6.66
(exc VAT) Each
( £1.80 Off )
£7.99

(inc VAT) Each

( £1.80 Off )

Online: Out of stock. Delivery normally 3-4 days
Cardiff: Out of Stock
Bridgend: Out of Stock

The IRWIN® Quick-Grip® Mini Bar Clamps have a revolutionary design and are fast and easy-to-operate.
Features
The high-tech resin body is sturdy and temperature resistant, and the 63kg clamping hold load makes for a perfect light-duty 3rd hand.
The clamps have non-marking, stay-on pads that protect the work surface.
Ideal for smaller jobs and applications in tight working areas.
Enhance your clamps with a wide range of Quick-Grip® Clamp Accessories.
Specification
Clamping Capacity: 300mm (12in).
Clamping Force: 70kg.
Standard Equipment
1 x IRWIN® Quick-Grip® Mini Bar Clamp 300mm (12in)