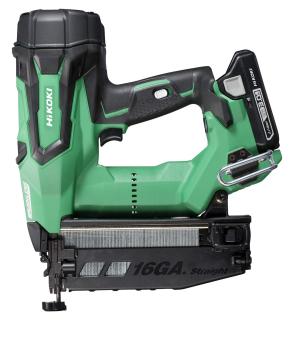 HiKOKI NT1865DMJXZ 16GA Brushless Straight Finish Nailer With 2 x 3Ah Batteries
Stock Code: HIKNT1865DMJXZ/JXZ/18
£
349.99
(exc VAT) Each
( £387.11 Off )
£419.99

(inc VAT) Each

( £387.11 Off )

Online: In Stock
Cardiff: In Stock
Bridgend: In Stock

he Hikoki NT1850DMJXZ 18v Li-Ion Brushless 16Ga Straight Finish Nailer has a unique air spring drive system (similar to Hikoki's pneumatic line) that uses compressed air to drive each nail resulting in zero ramp up time, increased shooting speed, recoil that feels like a pneumatic nailer, quicker response time between drives, better flush driving, even at an angle and easy maintenance due to fewer parts to manage.
Features
Cordless finish nailer with brushless motor for longer run time, less maintenance and increased durability
No air hose or compressor required
Eliminates the cost of fuel cells
Up to 1500 nails per charge
Air/spring drive system means less recoil, better flush driving and easier maintenance
Selective activation button; easily choose between sequential or bump fire mode
Tool free adjustment of drive depth
Tool free nose release for quick & easy jam clearance
LED work light
Lock switch and 30 minute automatic shutdown for increased safety and longer battery life
Low battery indicator
Pivoting joist hook
Specification
Driving Speed - Up to 3 nails/sec
Nail Gauge - 16 Gauge
Nail Length - 25-65mm
Loading Capacity - 100 nails
Dimensions - 315 x 298 x 108
Weight - 1.8kg
Standard Equipment
1x HiKOKI NT1865DMJ4Z 18V 16GA Brushless Straight Finish Nailer
2x 3Ah Batteries
1x Charger
1x Case
Warranty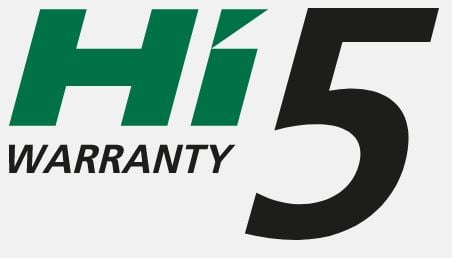 The HiKOKI Heavy Duty Warranty scheme covers cordless and electric power tools. You can register your cordless brushless power tools for an extra 2 years over the automatic 3 years from the heavy duty 3 year warranty. Batteries of 5.0Ah and above are covered, as well as MultiVolt batteries.
Online registration is required within 4 weeks of
purchase via the HiKOKI Power Tools (UK) Ltd
website.