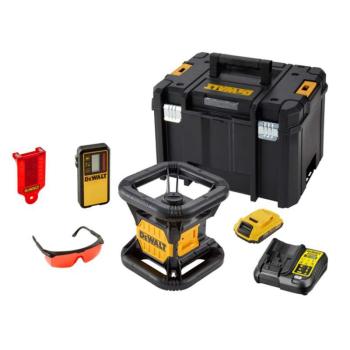 DeWALT DCE074D1R-GB Rotary Laser 457m + Detector - RED Beam
Stock Code: DEWDCE074D1R-GB
£
720.00
(exc VAT) Each
£864.00

(inc VAT) Each

Online: Out of stock. Delivery normally 3-4 days
Cardiff: Out of Stock
Bridgend: Out of Stock

The DEWALT DCE074D1R Red Rotary Laser is a fully automatic rotary laser measuring tool, best suited to professional use within indoor and work site environments. Manufactured in accordance with IP54 standards, protecting the laser against splash and dust damage.
Features an automatic self levelling mode on tilts up to 8º, automatic rotary scan mode and detection (pulse) modes. Can also be used manually. The laser incorporates a hard wearing, impact resistant housing for maximum durability and has been drop tested to 1 metre.

Features
Red laser technology.
Accurate to +-3mm
IP54 splash and dust rated.
Strong rubber over molded body.
Drop tested to 1m.
Compatible with tripods.
Automatic rotary scan mode.
45 meter indoor working range.
457 meter detector range.
Self leveling on tilts up to8º.
Powered by 18V XR or 54V FlexVolt batteries.
Specification
Voltage:..... 18V / 54V
Current:..... 2.0Ah
Working range:....... 45 Meters
Detector range:....... 457 Meters
Rotation speed:....... 0-60 / 250-600 rpm
Accuracy:...... +-3mm
Self leveling:...... 8º
Rating:..... IP54
Laser type:..... RED
Manufacturer... DeWalt
Standard Equipment
1 x DCE074D1R red rotary laser.
1 x 18V 2.0Ah Li-Ion battery.
1 x Charger
1 x Laser RangeDetector
1 x Wall Bracket
1 x Target Card
1 x Glasses
1 x T-Stak Case
Warranty
1 Year