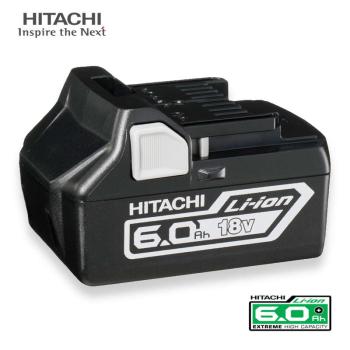 Hitachi BSL1860 6.0ah Li-ion Battery
Stock Code: HITBSL1860
£
89.00
(exc VAT) Each
( £61.21 Off )
£106.80

(inc VAT) Each

( £61.21 Off )

Online: Out of stock. Delivery normally 3-4 days
Cardiff: Out of Stock
Bridgend: Out of Stock

Hitachi Power Tools (UK) Ltd has launched a new high capacity 6.0Ah Lithium-ion battery, which is compatible with the entire range of 18V cordless tools.

The BSL1860 Li-Ion battery is the same size and weight as previousbatteries but with greater capacity and working time.

A multiplex protection circuit protects the cells from overload, overcharging and over discharge, ensuring a long lifetime with up to 1500 charge cycles.

Thenew 18V 6.0Ah range includes the impressive DV18DBXL/JX 18V Combi Drill with brushless motor.

The all new UC18YSL3 charger is capable of charging a 6.0Ah Li-Ion battery on only 38 minutes.