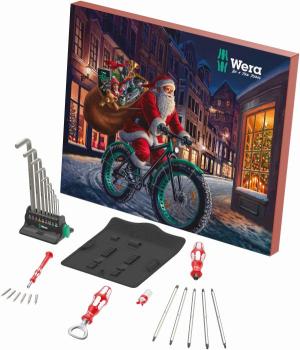 WERA 05136607001 2023 Advent Calendar 24 Piece Set
Stock Code: WER05136607001
£
66.65
(exc VAT) Each
£79.98

(inc VAT) Each

Online: In Stock
Cardiff: In Stock
Bridgend: In Stock

Experience the Magic of Wera's 2023 Advent Calendar - 24 Piece Set!

Step into a world where tools shine as brightly as the stars in the night sky. In 2023, Wera brings you the gift of Christmas joy, inspired by the iconic red and white coat of Santa Claus himself.
This advent calendar is more than just a delightful holiday decoration; it's a treasure trove of precision-engineered tools that will make every day leading up to Christmas special. Here's what's waiting for you:
9 Chrome-Plated L-Keys with Hex-Plus Advantage: Say goodbye to rounded screws with this robust set designed for hexagonal socket screws. Wera's Hex-Plus technology ensures a strong grip and precise control.
Convenient Storage Rack: Keep your tools organized and within reach with the included storage rack. It can stand upright on your table or hang on the wall, making your workspace efficient and festive.
Removable Magnetizer: No more fumbling with screws! The rack features a clever magnetizer that can magnetize (and demagnetize) screws and tool tips, making your work smoother and more enjoyable.
5 Blades with Double Tip and Matching Handle: With 10 different profiles, you can tackle a wide range of tasks. This versatile set is a must-have for anyone working with screws.
Micro Bit Holder and 6 Micro Bits: Perfect for electricians, precision engineers, and model enthusiasts, these micro tools make working with small screws a breeze.
Screw Gripper: Attach it to your screwdriver blade, and it will securely hold the screw for you, eliminating the need for a second hand. Practical and fun!
Bottle Opener: Because every craftsman deserves a refreshing break. This handy bottle opener is the perfect companion for your workbench.
This advent calendar isn't just a countdown; it's a journey through the world of quality tools, each designed to make your tasks easier and more enjoyable. Whether you're a professional or a hobbyist, this set is a true holiday delight.
Make this Christmas truly special with the Wera 2023 Advent Calendar - 24 Piece Set. Bring the spirit of Santa Claus to your workshop and make every day of December merry and bright.
Don't miss out on this limited-time offering. Get ready to unwrap the magic of Wera this holiday season. Order now and experience the joy of quality tools that will last a lifetime.


Features
The Tool Rebel Advent calendar is the perfect gift for the run-up to Christmas
A unique and innovative mix of screwdriving tools and accessories for 25 screw profiles
9 Hex-Plus L-keys in a smart tool rack, each with a removable magnetiser and a clip for mobile use
5 blades (double blades for two profiles each) and 1 matching hand holder
6 Micro bits for screwdriving in electronics, precision engineering and modelling and 1 matching hand holder
Of course including the iconic bottle opener in a new design for your collection
Specification
Pieces - 24
Standard Equipment
1x ADK 2023 L-key clip: Wall holder/Base
1x ADK 2023 Magnet
9x 950 L Ni L-key, metric, chemically nickel-plated: 1.5×90 mm, 2×100 mm, 2.5×112 mm, 3×126 mm, 4×140 mm, 5×160 mm, 6×180 mm, 8×200 mm, 10×219 mm
1x 80 ADK 2023 Vario handle: 6 x 98 mm
1x 85 Ni Combination blade for Phillips screws: PH 1 x PH 2 x 175 mm
1x 86 Ni Combination blade for Pozidriv screws: PZ 1 x PZ 2 x 175 mm
2x 87 Ni Combination blade for TORX® screws: TX 10xTX 15×175 mm, TX 20xTX 25×175 mm
1x 81 Ni Combination blade for slotted screws: 0.6 x 4 x 1 x 6 x 175 mm
1x 822 Bitholding screwdriver: 4 x 78 mm 2x 800 Micro bits: 0.3×1.5×30 mm, 0.40×2.5×30 mm
2x 851 Micro bits: PH 00×30 mm, PH 0x30 mm
2x 867 Micro TORX® bits: TX 5×30 mm, TX 6×30 mm
1x 1441 ADK 2023 Screw gripper for screwdriver blades, long bits and L-key with gripping function for screws: 4.5-6 x 41 mm
1x ADK 2023 Folding pouch: 200 x 95 mm
1x ADK 2023 Bottle opener: 145