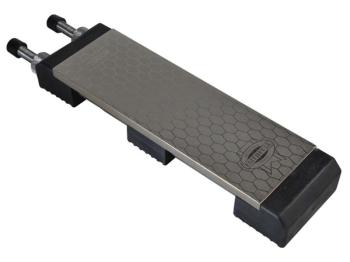 Faithfull Diamond Sharpening Stone 200mm x 70mm
Stock Code: TBKFAIDWKIT
£
34.99
(exc VAT) Each
( £12.29 Off )
£41.99

(inc VAT) Each

( £12.29 Off )

Online: In Stock
Cardiff: In Stock
Bridgend: Out of Stock

The Faithfull Diamond Sharpening Stone is a two sided diamond sharpening stone for quick, easy and effortless sharpening of any blade and many other tools. Two grits are provided 400G Coarse & 1000G Fine, each canbe easily accessed by simply releasing the stone from the docking station and turning it over.
The docking station is constructed using three solid, non-slip rubber pads and robust steel rods that are fitted with easy grip screw nuts for precise and firm fixing of the stone. The dock station is adjustable to except stones from 135 to 216mm in length and has a 6mm deep recess to provide a secure and firm base for all sharpening operations.
Diamond stones will sharpen carbon steel, HSS and tungsten carbide tools and may also be used to abrade glass, ceramic tiles and porcelain and may be used dry or with water as a lubricant. Used for general purpose sharpening of knives, scissors, chisels, plane blades, cutting blades, TCT router bits and any tool that requires a sharp edge.
Supplied with a handy storage wallet.
Technical Specs
Grades: 400G and 1000G.
Sharpening Surface: 200 x 70mm.