Data Powertools Tool Stores In Cardiff and Bridgend, South Wales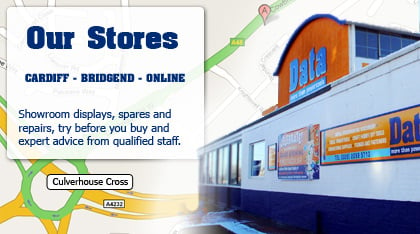 Store Locations
A visit to one of our stores is a must if you are a serious tool user. Our flagship store in Cardiff, South Wales boasts nearly 5,000 sq. foot of showroom space showcasing a vast range of power tools, hand tools, accessories, metalworking and woodworking machinery. Our store at Bridgend further complements Data's winning formula of experienced staff, in house repair facilities, nationwide delivery, safety testing, safety training, security marking and large stock availability. Events and Demonstrations are regularly held at our stores giving you the opportunity to see the latest machinery, tools and accessories in action and even the chance to 'Try before you buy'. Don't miss our In-store Events
Our stores are located in South Wales just minutes from the M4 motorway. Please use the maps below to get directions. We look forward to meeting you in person and helping you with any expert advice you may need.
Covid-19 Announcement:
*UPDATED*: Following the governments guidelines that hardware stores have been nominated as essential retailers and can stay open we are continuing to operate at our stores in Cardiff and Bridgend. However, for staff and customer safety we are restricting numbers of customers allowed access to our showrooms, for browsing purposes, at any one time. Please read the information at the door regarding social distancing regulations and sanitise your hands before entering. We accept cash and card payments and are also accepting online orders with collections and delivery times currently unaffected.

We take the Covid-19 outbreak very seriously and have taken numerous measures to ensure the wellbeing of our staff and customers. Soical distancing measures are in place and we have put barriers up to protect our staff and ensure the trade counters abide by the two metre social distancing recommendations set out by the government. Hand sanitiser and masks are readily available to further prevent any spread of the virus at our premises.

We are constantly monitoring the situation and will announce here again if the situation changes.

Cardiff
427 Cowbridge Rd West, Cardiff, CF5 5TF
Telephone: 029 2059 5710, Fax 029 2059 1540
Opening Hours:
Monday to Friday - 8am-5pm, Saturday - 8.30am-12pm, Sunday
-
Closed

Easter Holidays:
Friday 15th April -
Closed
until Tuesday 19th April - Open Normal Hours