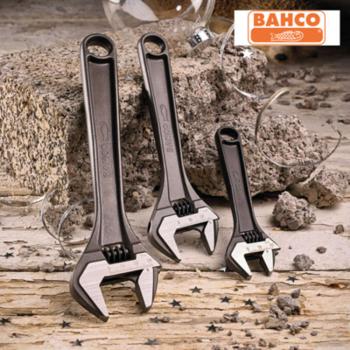 Bahco Series 80 Adjustable Wrench, Triple Pack 6,8,10 Inch
Stock Code: TBKXMS17WRENCH3
£
24.99
(exc VAT) Each
£29.99

(inc VAT) Each

Online: In Stock
Cardiff: In Stock
Bridgend: Out of Stock

Bahco Adjustable Wrench Triple Pack. The ultimate in versatility with these 3 adjustable wrenches.
Excellent quality featuring a Phosphate finish, tapered jaws for added grip, a measurement scale for accurate adjustment, 16° head angle with no protruding head for easy access and a knurled adjusting nut.

1 x 150mm (6in) Adjustable Wrench 20mm Capacity.
1 x 200mm (8in) Adjustable Wrench 27mm Capacity.
1 x 250mm (10in) Adjustable Wrench 30mm Capacity.