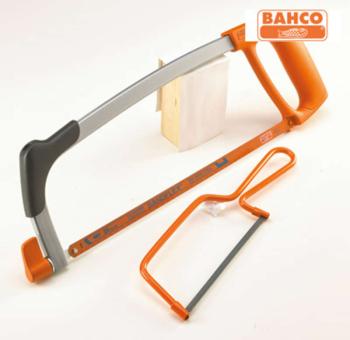 Bahco 300mm (12in) Hacksaw plus Junior Saw Set
Stock Code: TBKXMS17HACKSAW
£
7.49
(exc VAT) Each
£8.99

(inc VAT) Each

Online: Up to 2 or 3 working days
Cardiff: Out of Stock
Bridgend: Out of Stock

Bahco Hacksaw is supplied complete with Junior Hacksaw Bonus pack. The Bahco hacksaw is both versatile and suitable for all-round use featuring a slim design for improved access in confined spaces and easy storage.
Featuring a specially designed hand grip providing for excellent control, ensuring both optimum accuracy & performance.
Additionally, featuring the flexibility of 90° blade rotation for flush cutting.
Supplied complete with a 300mm (12in) 24 TPI reliable and shatterproof Sandflex bi-metal blade for excellent cutting performance.
The additional Bahco Junior Saw is a wire framed hacksaw with an orange lacquered finish complete with a 32 tpi blade for metal cutting.