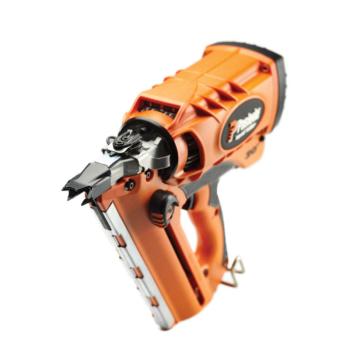 Paslode IM350+ / 90 CT Cordless Strip Nailer
Stock Code: PAS014801
£
469.00
(exc VAT) Each
( £136.15 Off )
£562.80

(inc VAT) Each

( £136.15 Off )

Online: In Stock
Cardiff: In Stock
Bridgend: In Stock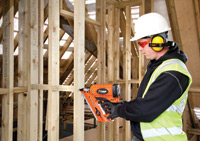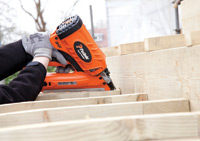 The NEW IMPROVED Paslode IM350 PLUS

Using enhanced technology, the IM350+ Cordless nail gun provides you with more reliability, increased accuracy, reduced actuation force and less maintenance.
Cordless, self-powered - No hoses, no compressors, no setting up time.
Versatile - Drives 51 - 90mm Stainless Steel, Hot Dipped Galvanised, Galv Plus, Bright, Ring, Unilock & Smooth nails
Powerful - Driving up to a 3.5 nails per second and 1000 per hour.
Compact - Advanced body design enables work in cramped, overhead and hard to reach places.
Tough - Constructed from heavy duty, reinforced durable housing, guaranteed for five years.
Features
NEW technology provides increased reliability and extended service intervals
NEW non-slip soft grip handle for user comfort and reduced operator fatigue
NEW nose probe with added teeth to help bite into the timber to ensure positive placement of the nail
NEW dual actionrafter / belt hook to with stand site abuse
IMPROVED follower guide for easier nail loading
Lower actuation force to reduce user fatigue
Faster tool performance for greater productivity
Excellent weight and balance
Pinch and slide tool free depth of drive adjuster
Versatile - drives 51mm to 90mm Stainless Steel, Hot Dipped Galvanised, Galv Plus®, Bright, Ring, Uni lock & Smooth nails
Specification
Weight - 3.4kg
Dimensions - 370 x 305 x 102 mm
Power - 82 JNail
Range - 51 - 90 mm
Cycle Rate - 2 - 3 nails / second
Maximum Cycle Rate - 1,000 nails / hour, 4,000 nails / day
Magazine Capacity - 55 nails (1 strip)
Fuel CellLife - Approx. 1,100 nails
Battery - Approx. 4,000 nails / charge
Charger 230 Volt - 2 hours max. charge
Applications include: Noggins, Timber Frame Erection, Stud Work, Floor Boarding, Soffits, Roof Battening, Shuttering,Roof Decking, Panelling, Flat Roofing, Packaging, Decking, Cladding, Fencing, Joists, Overboarding.
Includes
IM350 / 90- High impact lightweight carry case
2 x batteries
AC/DC adaptor
Battery charger
Cleaning solution
Impulse lubricant
Safety glasses to EN166:F
Allen key
Instruction manual
Warranty
2 years