DeWALT DW625EKT 1/2" Plunge Router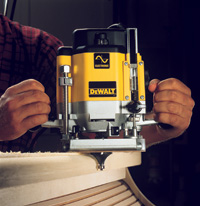 Our best selling industrial DeWalt router particularly popular with carpenters, joiners and kitchen fitters.
Features
Electronic speed control ensures that the same fine finish is achieved in all grades of timber, aluminium and plastics since the full wave electronic control ensures the selected speed in maintained under any load. Soft start to eliminate small initial movements that might misalign the cutter, especially important with such a powerful router.

Routing depth setting with fine adjustment and magnified scale for simple setting. Two column precision guide with large phosphor bronze bushes for plunging accuracy in a high quality die cast aluminium housing so that carefully controlled plunge cuts can be made. Large comfortable handles with the on/off switch and plunge lock at your finger tips for excellent control.

Dust extraction through the base mounted spout for virtually dust free routing3 stage depth stop adjustment enables recesses of various depths to be machined in oneoperationwithout time consuming setting up. Spindle lock mechanism for quick and easy cutter changes with a single spanner. Compact low profile design that provides easy handling and increases stability.
Specification
Power Input 2000 Watts
Power Output 1400 Watts
No Load Speed 8000-20000 rpm
Plunge Stroke/Movement 80 mm
Collet Size 6-12.7 mm
Max. Cutter Diameter 50 mm
Weight 5.1 kg
Length 290 mm
Height 295 mm
Hand/Arm Vibration 3.1 m/s2
Uncertainty K 1 (Vibration) 1.5 m/s²
Sound Pressure 93 dB(A)
Uncertainty K 1 (Sound) - dB(A)
Accoustic Pressure 102 dB(A)
Uncertainty K 2 (Sound) - dB(A)
Standard Equipment
Parallel fence with fine adjustment
Dust extraction adapter
30mm guide bush
12mm collet (½" UK)
22mm spanner
Heavy duty T-STAX carrying case
Warranty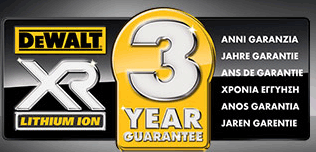 1 year warranty extended to 3 years with a MyDeWalt registration (within 4 weeks of purchase)

Please select a product to add a review to.
Related Products