DeWALT DW615 1/4" Plunge Router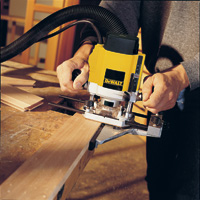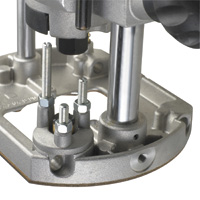 A top quality compact 1/4" industrial DeWalt router used by tradesmen across the globe.
Features
Electronic speed control ensures that a consistent finish is achieved in all grades of timber, aluminium and plastics since the full wave electronic control ensures the selected speed is maintained under any load. Soft start to eliminate any small initial movement that might misalign the cutter. Lightweight and compact design increases ease of use as the cutter remains visible at all times for error free routing.

Two column precision guide for plunging accuracy in a high quality aluminium housing with phosphor bronze bushing so that carefully controlled plunge cuts can be made. 3 stage depth stop adjustment enables recesses of various depths to be machined in one operation without time consuming setting up. Spindle lock mechanism for quick and easy cutter changes with a single spanner.
Specification
Power Input 900 Watts
Power Output 590 Watts
No Load Speed8000-24000 rpm
Plunge Stroke/Movement 55 mm
Collet Size 6-8 mm
Max. Cutter Diameter 36 mm
Weight 2.9 kg
Length 110 mm
Height 260 mm
Hand/Arm Vibration 7.8 m/s
Uncertainty K 1 (Vibration) 1.7 m/s
Sound Pressure 88 dB(A)
Uncertainty K 1 (Sound) - dB(A)
Accoustic Pressure 89 dB(A)
Uncertainty K 2 (Sound) - dB(A)
Standard Equipment
Parallel fence & 2 guide rods
17 mm guide bush
Dust extraction adaptor
17/13 mm & 8 mm spanners
1/4" collet
Warranty
1 year warranty extended to 3 years with a MyDeWalt registration (within 4 weeks of purchase)

Please select a product to add a review to.