Bosch GBH2-26DRE SDS Hammer Drill
Our best selling heavy duty industrial Bosch SDS Hammer Drill built to last!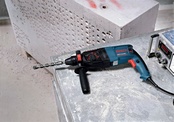 Features
The fastest all-rounder for daily use

Superior drilling rate in the 2 kg hammer class

Rotation stop for chiselling

Impact stop for drilling in wood and steel

Easy-to-change toolholder

Ball grommet for preventing cable breaks

Softgrip on main handle and auxiliary handle for a secure hold

Overload clutch

Rotatable brush plate (for equal power in forward and reverse operation)
Specification
Rated power input 800 W
Impact energy 0 - 3 J
Impact rate at rated speed 0 - 4.000 bpm
Rated speed 0 - 900 rpm
Weight without cable 2,7 kg
Length 377 mm
Width 83 mm
Height 210 mm
Toolholder SDS-plus
Drilling diameter in concrete with hammer drill bits 4 -26 mm
Optimum range of applications in concrete with hammer drill bits 8 -16 mm
Max. drilling diameter in masonry with core cutters 68 mm
Max. drilling diameter insteel 13 mm
Max. drilling diameter in wood 30 mm
Standard Equipment
Carrying case
Auxiliary handle
Depth stop 210 mm
Warranty

Click above logo for details and to register your warranty please note to qualify for the 3 year warranty you must register your tool within 4 weeks of purchase date
Please select a product to add a review to.